Custom Inground Swimming Pool Installation In Ajax, Ontario
A Backyard Space For Everyone In The Family Centered Around A Beautiful, Custom Heated Salt Water Inground Swimming Pool
The goal for these Ajax area homeowners was to create a family-friendly backyard space specifically designed to accommodate their younger children.
To be included in the design were a medium-sized, heated, salt water custom inground swimming pool (design & installation), a putting green, a safe play area for the young children and another space for a barbecue area.
With limited space to work with, this was a very large wish list.
Although this project presented a serious challenge, we were able to make it happen as adapting to difficult situations is a big part of what we are expected to do – and something that we constantly face with our projects.
With limited access to the backyard from between the houses, coupled with a smaller backyard workspace, we simply used smaller equipment. Problem solved!
With their young children in mind, it was important to ensure there was a heater installed to have the pool heated, as well as the use of salt water for their sensitive skin.
At Avoca Pools, family core values are important to us and curating a perfectly executed and family-friendly backyard escape for everyone to enjoy for many years to come is what we strive for.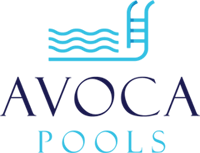 Medium Sized Inground Swimming Pool
Salt Water
Pool Heater
Putting Green
Play Area For Children
Dedicated Barbeque Area
We've got pools in stock that are just waiting to be installed!
Our custom inground pools can accommodate any property and are available in any shape or size you can come up with. Need help designing what's best for your backyard space? Put our experience to work!