We make replacing pool liners a breeze!
We've got you covered with our custom-fitted Pool replacement liners
If your existing viny pool liner is damaged, a leaking liner will not only drain water from the pool, but it will cause damage to the pool walls which could result in costlier repairs.
Or, maybe you want to replace your liner to bring life to your existing pool, making it more attractive with a modern design.
Either way, we've got you covered with our custom-fitted and durable vinyl liners that come in many patterns and colours.
Needing to replace a swimming pool liner is not the happiest thought in the world and we know the anxiety it can cause.
How much do they cost? Who has what we need? Who can do the job and how long is it going to take them?
And the answer to all of those questions, of course, is "Avoca Pools".
We also only install high quality swimming pool liners, fabricated from the finest North American made materials.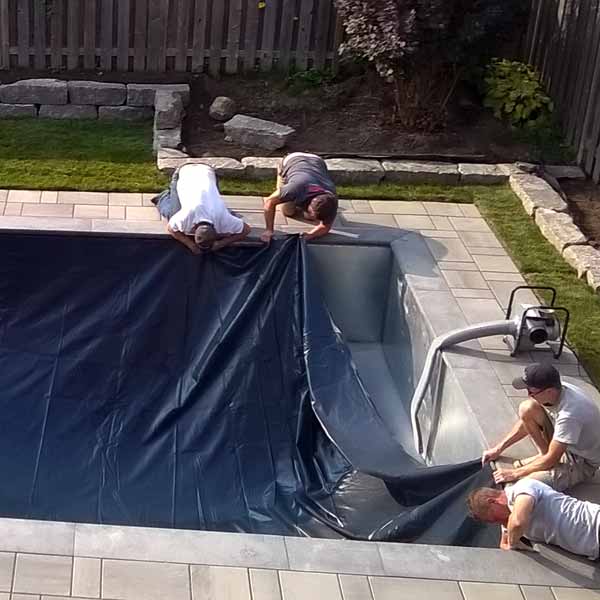 Custom Quality Pool Replacement Liners Design & Installation
We Are A Full-Service Inground Pool Company
When it comes to replacing your liner...
After more than 25 years in the business – and with 100s of pools installed – we know how to help people maintain them.
When the time comes – and it does come, eventually – to replace your liner, we can use your pattern and colour choices and then have them custom-made for an exact fit.
We can then quickly install it and have you back to enjoying your pool very quickly.
Don't let the thought of replacing your line cause you any more grief than it has and just get in touch with us as soon as you can.
Want to see our available liners?
Our supplier has several lines of amazing pool liners and there's definitely something for everyone available.
Click the DOWNLOAD buttons below and you'll be able to view the PDF catalogues.
Our Service Areas Include: