Pickering Custom Inground Swimming Pool Installation
A custom pool, complete with dog-steps and entertainment and seating areas for everyone to enjoy
Have you ever heard the saying, "the dog lives here, you're just visiting"?
For these homeowners in the Pickering area, accommodating their furry friends was at the top of our to-do list and it was most important that this inground swimming pool installation was to be dog-friendly for their golden retrievers to take a dip.
In addition, the homeowners wanted to create a space where their family, friends and the dogs could enjoy their backyard time together.
After successfully completing Our Process, which established timelines, design details and costs, we installed a 16 x 32 custom in ground rectangular pool with corner fibreglass steps.
We used fibreglass steps in order to ensure there would be no concerns with their dogs entering or exiting the pool after going for their swim.
In order to create their entertainment space, we installed a recessed fire feature area alongside stone walls for seating which made for the perfect area to warm up on a cool summer night after spending the whole day in the pool.
We also added a gazebo for shade with additional seating and the poolside loungers rounded-out the relaxation and entertaining theme the homeowners were after.
Finally, to add a little bit of spice to this area, the homeowners decided to include a custom armour stone water feature which really was a beautiful addition and helped to tie-in and connect the entire area.
What we ended-up with in the end was a backyard – and home – that really encompasses what it means to be a dog-parent.
We made sure their furry friends were included every step of the way and they ALL now have a space and pool to enjoy for years to come (and that's a long time in dog years).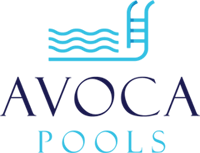 16'x32 Custom Inground Rectangular Swimming Pool
Custom Corner Fibreglass Steps
Custom Armour Stone Water Feature
Recessed Fire Feature Area
Stone Walls For Seating
We've got pools in stock that are just waiting to be installed!
Our custom inground pools can accommodate any property and are available in any shape or size you can come up with. Need help designing what's best for your backyard space? Put our experience to work!